CAMPAIGN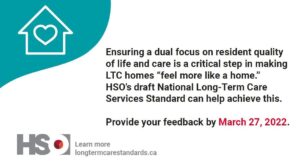 One step closer to a "Safe Long-Term Care Act"
BCHC member organizations and individuals were part of the 18,000 Canadians who helped shape the new draft LTC standards, recently released by Health Standard Organization.
In a recent blog post, we shared our initial reaction to the draft standards. While there is a lot to applaud about these updated standards, we worry about the lack of funding and commitment to legislate new standards will limit implementation.
The new draft standards [also] fail to acknowledge the majority of Canadians who wish to see for-profit long-term care phased out. In BCHC members' submissions to HSO, the theme of for-profit care resounded loud and clear. Neither the new report nor the draft standards make any mention of how ownership shapes the experiences of staff and residents. "Reconsidering the provision of For-Profit LTC Care" was identified as a key issue in HSO's What We Heard Report #1. What happened since then? 
The draft standards are open for public feedback until March 27th, 2022. 
TAKE ACTION
Support the AccessBC campaign to include free prescription contraception in the 2022 budget. Click here to send your MLA a letter asking them to support this initiative.
WATCH & LEARN
OPINION
Lower drug prices are a priority for Canadians, but not for the federal governmnent | The Conversation With yet another delay to the changes to the Patented Medicine Prices Review Board announced in December 2021, Joel Lexchin tracks Big Pharma's lobby in opposition to the changes, considered part of the groundwork for a national pharmacare plan.
PUBLIC HEALTH NEWS & RESOURCES
DONATE
Click HERE to donate to the BC Health Coalition
Donations by cheque can be made out to BC Health Coalition and mailed to BC Health Coalition 302-3102 Main Street Vancouver BC V5T 3G7.
If you would like to set up monthly donations by cheque, please fill out this Donation Form and mail it in with a void cheque.