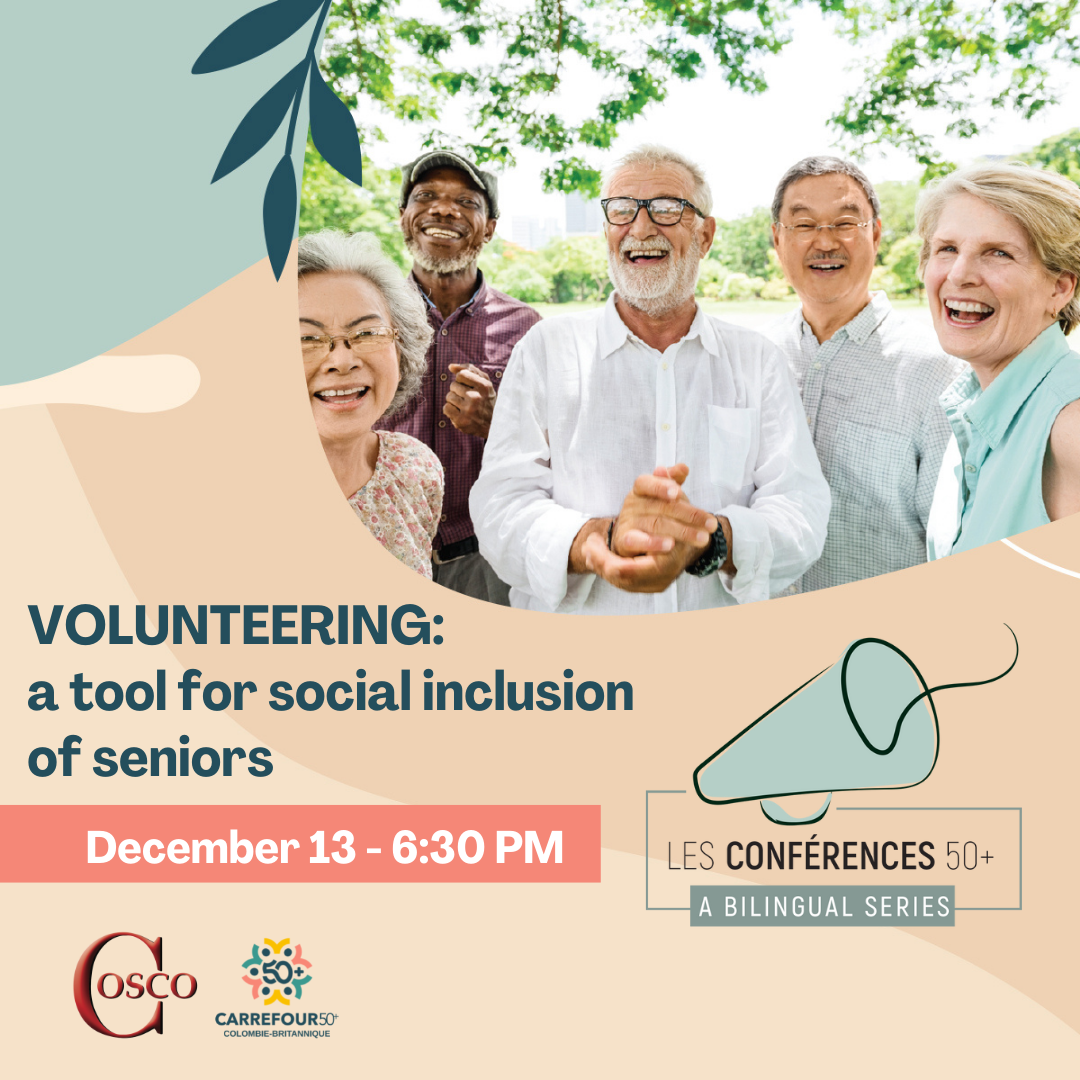 Date
Dec 13 2022
Expired!
Volunteering : a tool for social inclusion of seniors
When: Tuesday 13 December 2022 18:30
Where: Online
Register: https://us06web.zoom.us/j/85916819341
DESCRIPTION
In retirement, many seniors turn to volunteering as a way to give meaning to their lives and regain a fulfilling social life.
Our two guests are long-time volunteers and will share their perspectives on the issue.
LESLIE GAUDETTE
Leslie Gaudette has volunteered to improve the lives of those around her from her teenage years.  Even when working full-time and raising a family, she always found time to volunteer for community organizations. But her volunteer life really took off following a tsunami of life events, which triggered an early retirement from her career as an epidemiologist with the Federal Government. Returning to her hometown of Langley BC, she became active in a number of local organizations including the Family Council of Langley Lodge, community outreach with her church women's group, and the Surrey Trekkers walking club. This led to serving on local Boards for the National Association of Federal Retirees, and two community theatre groups. In 2014 she was appointed to the Board of the Council of Senior Citizens' Organizations of BC (COSCO), where she discovered a passion for advocating for the myriad of health care and pension issues that affect our lives as seniors. From 2015 to 2019, she served on the Council of Advisors to the BC Seniors Advocate.
She remains active in her local community for Langley Seniors in Action.  In February 2022, she was elected President of the COSCO where she continues to grow and learn.   She has been recognized for her contributions through Queen's Platinum Jubilee Award, the SFU Gerontology Research Centre's 2022 Seniors Leadership Award for Outstanding Service and Community Education,  the 2021 Eric Flowerdew Volunteer of the Year Award of Merit in Langley, as well as the 2015 Collaboration Award with the National Association of Federal Retirees.
NICOLE CHAGNON
A BC resident since 1990, Nicole Chagnon worked in the field of Francophone education (CSF, UBC and Ministry of Education) before retiring in 2018. She now lives in Victoria and is involved in many volunteer projects, some in the francophonie, including Radio Victoria, but also in community activities such as helping vulnerable seniors. Retirement has allowed her to explore her passion for the arts and to pursue other volunteer opportunities. She is also the mother of three children.